Focus and Scope
JEKP aims to be a leading journal as source of information in economics and public policy. We publish original research papers, review articles, and case studies focused on economics and public policy issued as well as related topics. All papers are peer-reviewed by at least two expert. JEKP is managed to be issued twice a year. The Scope of JEKP is:
1. Economics: including macroeconomics, microeconomics, international trade, finance, human resource, and.
2. Public policy: including fiscal policy, monetary policy, public good, private good, governance issues, energy policy issue, and any other related issues.
The study within all scope of JEKP will be prefered ini applied studies.
Section Policies
Front Pages
| | | |
| --- | --- | --- |
| Open Submissions | Indexed | Peer Reviewed |
Articles
Editors
Eka Budiyanti, S.Si, M.SE
| | | |
| --- | --- | --- |
| Open Submissions | Indexed | Peer Reviewed |
Back page
| | | |
| --- | --- | --- |
| Open Submissions | Indexed | Peer Reviewed |
Peer Review Process
We are committed to prompt evaluation and publication of fully accepted papers in JEKP Policy. To maintain a high-quality publication, all submissions undergo a rigorous review process. Characteristics of the peer review process are as follows:
Simultaneous submissions of the same manuscript to different journals will not be tolerated.
Manuscripts with contents outside the scope will not be considered for review.
Papers will be reviewed by at least 2 experts as suggested by the editorial board.
In addition, Editors will have the authority to recommend additional reviews when needed. Authors will be informed when Editors decide further review is required.
All publication decisions are made by the journal's Editors-in-Chief on the basis of the reviewer reports. Authors of papers that are not accepted are notified promptly.
All submitted manuscripts are treated as confidential documents. We expect our Board of Reviewing Editors and reviewers to treat manuscripts as confidential material as well.
Editors and reviewers involved in the review process should disclose conflicts of interest resulting from direct competitive, collaborative, or other relationships with any of the authors, and remove oneself from cases in which such conflicts preclude an objective evaluation. Privileged information or ideas that are obtained through peer review must not be used for competitive gain.
Our peer review process is confidential and identities of reviewers cannot be revealed.
Publication Frequency
JEKP is a journal published online twice a year in the middle of the year (June) and in the end of the year (December).
Open Access Policy
JEKP provides immediate open access to its content on the principle that making research freely available to the public to support a greater global exchange of knowledge.

Archiving
This journal utilizes the LOCKSS system to create a distributed archiving system among participating libraries and permits those libraries to create permanent archives of the journal for purposes of preservation and restoration. More...
Article Processing Charges
Every article submitted to JEKP will not have any 'Article Processing Charges'. This includes submitting, peer-reviewing, editing, publishing, maintaining and archiving, and allows immediate access to the full text versions of the articles.
Plagiarism Check
Plagiarism screening will be conducted by JEKP Editorial Board using Google Scholar and Indonesia One Search (IOS)
Accreditation Certificate
JEKP has been certificated as a Scientific Journal by the Indonesian Institute of Sciences (LIPI) since 07 October 2013.
Accreditation Number: 557/Akred/P2MI-LIPI/09/2013
Valid thru: 07 October 2016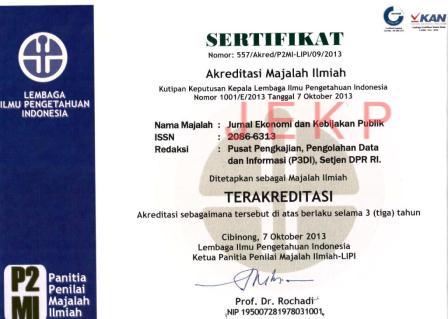 Reviewer Acknowledgement
The Editors of JEKP would like to thank all of our reviewers, both external and Editorial Board Members, who have contributed to the journal in Volume 7 (2016) and whose valuable support is fundamental to the success of the journal.